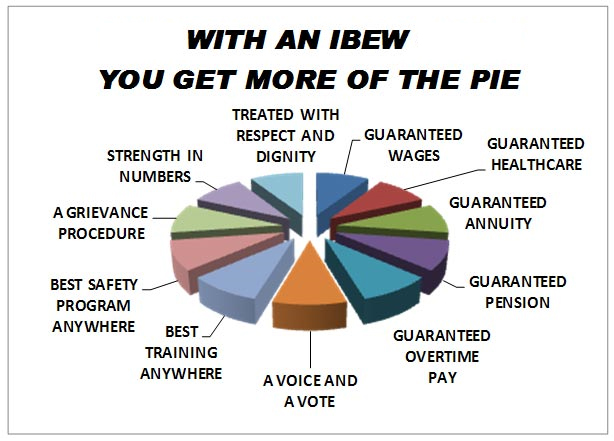 Dear IBEW Local 573 Members and Future Members:
The objective of the International Brotherhood of Electrical Workers has always been the same since our founding in 1891: To organize all workers in the entire electrical industry, including all those in public utilities and electrical manufacturing, into local unions, to promote reasonable methods of work, to cultivate feelings of friendship among those of our industry, to settle all disputes between employers and employees by arbitration (if possible), to assist each other in sickness or distress, to secure employment, to reduce the hours of daily labor, to secure adequate pay for our work, to seek a higher and higher standard of living, to seek security for the individual, and by legal and proper means to elevate the moral, intellectual and social conditions of our members, their families and dependents, in the interest of a higher standard of citizenship.
Quite a mouthful, but for those of us who are already members, it's time to speak up and let the pride of being an IBEW member shine through. Help those that don't recognize the benefits of working under an agreement by explaining it to them. Many individuals have been intimidated by the very person that they work and make money for, to the point that unionism sounds like a very bad idea. Most non-union workers don't even have the benefit of health insurance anymore. If they do, most have the premium deducted from their weekly paycheck.
The number one goal for workers should be to acquire a better standard of living for themselves and their families. Make no mistake, organizing into a Union with Collective Bargaining rights will ensure you have a voice in your workplace and your future. Better pay, health insurance for you and your family, and a pension enabling us to retire with dignity, are goals we all strive to attain.
If you would like to learn more about the advantages of working for a signatory contractor and the benefits of working with a contract through IBEW Local 573,  please contact Mark Phillips.
Common Misconceptions of the IBEW
There are many more "misconceptions" out there. Do yourself a favor and find out the FACTS for yourself!
For more information please contact us.